My work evokes themes of beauty and nature, color and light, the mood of a captured moment, often with an offbeat, humorous note. I am excited by the challenge of problem solving in creating visual or spatial art, and creating functional, unusual solutions to design applications. My exploration of media includes painting with oil or acrylic on canvas, silkscreen printing, sculptural structures hanging in space constructed with fabric membranes in tension and compression, and engaging digital and print technology in the production of giclée prints.
MANITOBA
My geographic journey began in the Canadian prairies, and continued to eastern Canada and Michigan, across country to California, and up the coast to the Pacific Northwest. The vast Canadian prairies of my early life instilled a love of open landscapes that became essential to my spirit and my art. I formed a fascination with water and sky during summers spent on northern lakes, providing a rich trove of images that manifest in my work.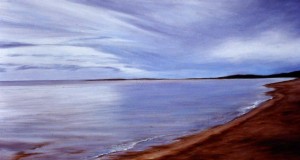 On Gimli Beach, acrylic on Canvas
As a student at the University of Manitoba, I had a dual focus in Fine Arts and Interior Design. I painted and also taught elements of design. The grounding in design gave me an inherent understanding and facility with balance, harmony and rhythm, line, color, mass and volume. I connected with kindred spirits in an environment that allowed me to experiment and expand the boundaries of my world. Investigating new artistic mediums and means of expression, I experimented with silkscreen printing techniques on fabric at the University of Hawaii in the summer of 1970.
At that time, I also became intrigued by the work of surrealist artists like Man Ray, Marcel Duchamps, who elevated the everyday object as art, and Rene Magritte, who juxtaposed oversized familiar objects in unexpected settings.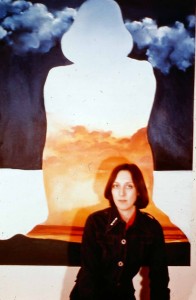 My Magritte, acrylic on canvas
CRANBROOK
With a scholarship from Design Canada, I entered the MFA program at Cranbrook Academy of Art in Michigan.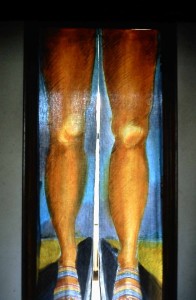 Walk In, Door to my Studio at Cranbrook, Oil Pastel on Cotton
Claus Oldenburg, a visiting artist at Cranbrook, presented his oversized sculptures of familiar objects such as a giant stuffed fabric Ice Bag and Floor Burger. I was also delighted by Christo's monumental orange fabric installation the Valley Curtain Project.
Stride a Sketch in the Snow
Fabric paint on cotton Fabric paint on cotton
Stride
My body of work from Cranbrook focused on banners and kites constructed of fabric panels, supported by metal rods and cords. These pieces, such as "Stride a Sketch in the Snow", are playful and optimistic, fabricated of white cotton panels, and painted with the image of 2 pairs of huge yellow legs, and installed between trees on the grounds of Cranbrook.
TORONTO
After graduation from Cranbrook, Toronto in the '70's was exciting, a nexus for meeting other artists and collaborating with creative people including the avante garde conceptual art collective, General Idea (http://en.wikipedia.org/wiki/General_Idea). Their work appealed to my sense of humor and the bizarre. I contributed the featured self-portrait in the "Manipulating the Self" competition, which became the centerpiece of an iconic General Idea poster. I took on the art identity of "Ahsram Rrak" appearing on the cover of the art magazine FILE.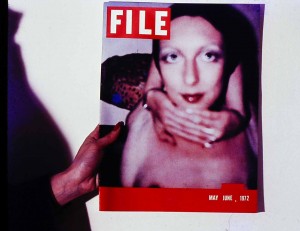 FILE Magazine
Works in collaboration with General Idea have been subsequently featured in several exhibitions including the 1997 General Idea Retrospective at the Art Gallery of Ontario (AGO) in Toronto, Canada and Haute Couture: Musee d'Arte Moderne de la Ville, Paris, Haute Couture: Musee d'Arte Moderne, Paris, traveling to the Art Gallery of Ontario in 2011.
I also incorporated General Idea images in my personal art, such as the silkscreen prints on fabric "Hand of the Spirit"
Hand of the Spirit Banner

Silkscreen and dye on silk, installed Phillips Electronics, Toronto, Canada

Hand of the Spirit, Detail
| | |
| --- | --- |
| | |
| Luxon Sheers, silkscreen on silk organzation | Luxon Sheers, Detail |
Feeling the pressure of making art that was unique and important was like being up against a brick wall. In response to the frustration I decided to make light of it and created the concept of the "Flying Brick Wall" banners and kites, juxtaposing concepts of rough to smooth, hard and soft, heavy and light.
Brick Kite, Half box kite,
silkscreen on silk, brass struts and cords
Brick/Sky Corner, Acrylic on canvas
COMMISSIONS
In my College Avenue studio in Toronto, I produced a series of large fabric pieces commissioned for installation in public spaces.
Prairiescape, Rupertsland Square, Winnipeg, Canada
Airbrush fabric paint on silk panels 2 ' 0" x 12 – 0" each
I was commissioned to produce a series of sails or banners for Canada's first Olympic games in 1976. The Olympic banners are a culmination of influences – kites/fabric water imagery, and sails with installation in trees – creating a surreal way of looking at the world.
Olympic Sails, installed Kingston, Ontario, for Olympic Yachting Events
SOUTHERN CALIFORNIA/ L.A. and THE DESERT
The drive southwest across the country from Toronto to a new home in California was a transformational journey through forests, across the heartland and the desert, and over mountain passes. Through the car window I saw visions of giant legs striding across the highway, or a mountain pass between soft human shoulders. Life was an adventure and anything was possible. Arriving in Los Angeles, the expansive horizon of the Pacific welcomed me.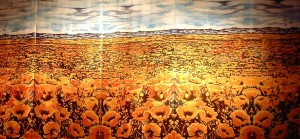 Desert Poppies, silkscreen and painted dye on five silk panels, each 30 x 60
The paintings and sculptures work I produced in the 70's were exhibited as a solo exhibition at the Riverside Art Museum in Southern California, and at the American Institute of Architects in San Francisco, also in group exhibitions at the Los Angeles County Museum, the Los Angeles Municipal Art Gallery, and the Transamerica Pyramid in San Francisco.
I lived in L.A. for a year before moving north to the San Francisco Bay area. Every winter I return to the desert in Southern California desert, where I continue to study the way the figure moves in water. I continue this exploration in my Pool Series.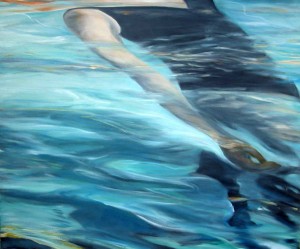 Floating Figure Oil on canvas
NORTHERN CALIFORNIA/MARIN COUNTY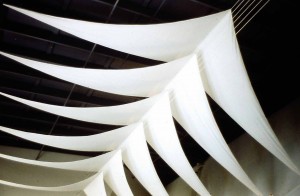 Six Sails, Installation, Larkspur, CA. cotton and nylon cord, 30"- 0" x 40"- 0"
Commissioned for a restaurant in Larkspur, California.
After working in printing techniques, and fabricating sculpture that required multiple steps to complete an artwork, I craved the immediacy of pigment on canvas and returned to painting. For the next 22 years, I created narrative paintings in my Marin County studio in the serene company of my first Saluki and hounds begin to appear in the paintings.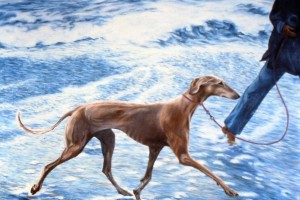 Bullet on the Beach, Oil on Canvas
I was involved in arts education at the University of California Berkeley, Extension, creating courses and programs. I became a guiding force and was appointed Program Director of Art and Design.
While at U.C. Berkeley, I had the opportunity to paint with Leigh Hyams, artist and inspirational teacher. She encouraged a looser expressive, gestural and more visceral approach to painting, which influenced and encouraged the brush stroke that is signature to my work today. I participated in her workshops in Provence, France and at Esalen, California.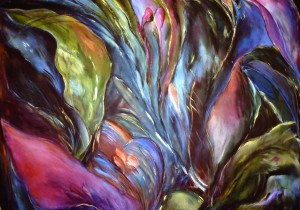 Botanical Fantasy 1 48 x 54, acrylic and oil pastel on canvas

SEATTLE
In 2000 I moved to the Seattle area with my husband and daughter and our second Saluki. Enchanted by the mysterious landforms and bodies of water of the Pacific Northwest, I painted images of water and sky, fascinated with the play of light and movement, seeking to capture the time of day, the mood of a scene.
I opened a studio in an artist's loft building and began a period of focused painting, exhibiting my waterscapes and abstract paintings at open studios and in solo and group exhibitions in private galleries and the Seattle Art Museum Rental/Sales gallery. Currently, my work is represented by Patricia Cameron Gallery in Seattle.
I began` a design practice focusing on residential design and renovation and garden design, enjoying the array of plant materials; colors, leaf shapes and flowers in plants available in the Pacific Northwest. Employing Digital technology to photograph and print giclées of my paintings, which I offer for purchase from studio. The Water Lily series of digital images of my water lily pond are enhanced and printed to create unusual and seductive prints of the lily flowers pads and the patterns and reflections in the water.
Humor has resurfaced in my recent work, perhaps as an antidote to the struggles in the world around me. In this series, in a portfolio titled "Surreal", I set familiar objects in the context of an exquisite landscape, as in Poacher's Nocturne, where the image of a poached egg, shines as a full moon in a night sky reflected in a body of water.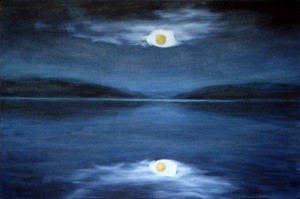 Poacher's Nocturne 24 x 36 acrylic on canvas
My art practice, subject matter and materials are directly intertwined with the geographic movements of my life, my background in both Fine Arts and Design, and the people and animals that came and went. As I journeyed from one side of the continent to the other, from north to south and north again, my imagery was influenced by opposing environments, land formations and changes in the quality of light – prairie to mountain, lake to ocean, stillness to movement. Facing the challenges both personal and in the fantastic world around me, humor and surreal elements became characteristic of the work.