My paintings evoke themes of beauty and nature in a moment captured. In my digital studio I create giclée prints of my oil and acrylic paintings. I take this opportunity to re-create a painting in a new medium, to experiment with color, contrast, and brightness and make other adjustments to create a unique image.
.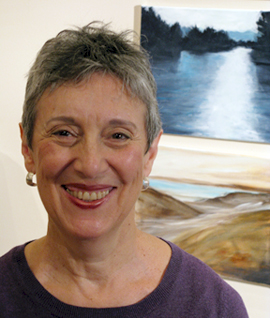 The vast Canadian prairies of my early life instilled a love of open landscapes that became essential to my spirit and my art. My fascination with water and sky began during summers spent on northern lakes, providing a rich trove of images that manifest in my work.
My art has been exhibited in solo and group exhibitions internationally and resides in private collections in the United States and abroad. After earning a Master's in Fine Arts at Cranbrook Academy, I was Director of Programs in Art and Design at the University of California, Berkeley Extension.
Humor has resurfaced in my recent painting, perhaps as an antidote to the challenges in the world around me. In a series titled Surreal I set familiar objects in the unexpected context of an exquisite landscape. In Poacher's Nocturne, the image of a poached egg shines as a full moon in a night sky reflected in a body of water.
I moved to the Seattle area with my family in 2000, where the mysterious landforms and bodies of water of the Pacific Northwest inspire my painting. My aspiration is to bring delight and healing to people through my art.